2017 Hunting Policy and PKCA Permit Announcement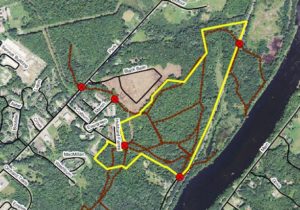 ATTENTION: Archery Hunters interested in obtaining a permit for expanded season on Orono Land Trust's (OLT) Piney Knoll Conservation Area (PKCA)
ORONO LAND TRUST – CHANGE IN PERMITTING PROCESS FOR EXPANDED 2017 ARCHERY SEASON – PINEY KNOLL CONSERVATION AREA (PKCA)
Hunting on OLT's PKCA is only allowed for those who posses a  valid Maine license to bow hunt and under a permit issued by Orono Land Trust.  No other hunting is permitted on PKCA.
After 5 years of feedback from hunters participating in Orono Land Trust's Expanded Archery Season on PKCA it has become evident to OLT that, to ensure safety of hunters and to improve the quality of the hunting experience, changes to the program are warranted.  Because PKCA is only 75 acres and OLT has, in previous years, issued 40-60 permits per-year, the area was believed to be too crowded for safety and for enjoyment of the hunting experience.  To reduce the density of hunters on PKCA at any given time, the 2017 Expanded Archery Season will be split into two seasons, each with seven Saturdays:
EARLY season: September 9 thru October 24  (39 days), and
LATE season: October 25 thru December 9 (40 days).
Hunters must apply for a permit by 12:00 a.m. EST, September 1, 2017 (Apply through the OLT website, or email to Jerry Longcore (PKCA.Permit@oronolandtrust.org), OLT's authorized representative.  No requests will be accepted after that date.  From the qualified applications received by the September 1st deadline, up to 25 hunters will be chosen at random to receive permits for the EARLY season, and up to 25 requests will be selected to receive permits for the LATE season.  Only hunters selected to receive a permit will be notified by email within two days of being selected.
As in previous years, it is requested that hunting be done from tree stands to decrease the danger of injury of other hunters.  As a condition of accepting a permit, tree stands can only be put up during the season for the permit – meaning:
EARLY Season permittees can set up their tree stands after they receive their permit and must removed their stand by the end of the day on October 24.
LATE Season permittees may set up tree stands no earlier than October 25 and must remove stands within two weeks after December 9.
Notes for PKCA Extended Season Permits:
Selection of permittees will be done via random drawing, expected to take place on/after September 1, 2017.
Only one permit for one season (EARLY or LATE) will be issued per hunter.
The total number of permits issued, up to the maximum of 50 per season, will depend upon the number of applications that meet the requirements.  Not all permits may be issued.
After the hunters are selected, no additional drawings will be held and no additional permits will be issued.
As a condition of accepting a permit, the hunter agrees to fill out an online survey about their experience.  Failure to do so may result in disqualification for receiving a permit the following year.
Failure to follow rules of the permit may cause the existing permit to be revoked and disqualify the hunter from receiving future permits.
There is no fee or cost to submit an application for a permit. Only one application per hunter will be accepted.
Names of all permitees, and their permitted season on PKCA will be made available to the ME Warden Service, Department of Inland Fisheries & Wildlife.
Decisions about the PKCA permits are at the sole discretion of OLT.
Questions and application can be made by sending an email indicating the season you wish to submit an application  to PKCA.Permit@oronolandtrust.org.