Join OLT
The Orono Land Trust exists to protect and preserve our natural environment.  Every membership and donation helps to keep Orono green and connected through its trail system.  Membership is open to all those who wish to belong. Join our efforts to conserve the special places in Orono and maintain trails for use by the public.
Standard membership dues:
$10 Student Membership                $100‐$999 Supporting Membership
$25 Individual Membership             $1000 Life Membership
$50 Family Membership
There are two ways to give to OLT:
1. Click the following link to download a printable OLT Membership Application
Tax deductible dues and pledges can be made out to the Orono Land Trust and mailed to:
Orono Land Trust – PO Box 4 – Orono, ME 04473
2. Make a tax deductable online donation via PayPal
Please note: You DO NOT need to have a PayPal account to use this service.  Just select "Pay with a debit or credit card" on the checkout page.
If you care about the future of open space within Orono, please join us.
Orono Land Trust is a publicly supported charitable organization 501(c)3.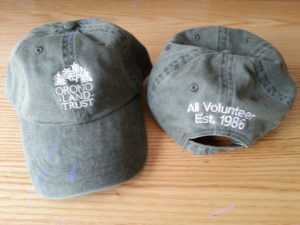 You can also support OLT's mission buy wearing out hat!
Click here for more info.