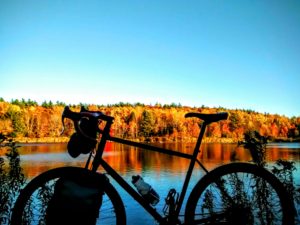 The OLT purchased the 88-acre Newman Hill property in 2002. The parcel contains forest, wetlands and portions of the old Veazie Railroad Bed. It is managed, with a stewardship plan, by the OLT. This area also provides access to 900 acres of land acquired by the Maine Dept. of Inland Fisheries & Wildlife, with the help of conservation buyers Jim Hinds and Steven Keleti. Major funding was provided by the Land for Maine's Future Fund and the Outdoor Heritage Fund. It provides access to an adjacent conservation easement of 123 acres and two easements at 37 acres and 48 acres (donated by Jim and Pat Hinds). In 2013, OLT purchased 315 acres from Chris Dorion, who had had already established several wonderful cross-country ski trails on the property. In 2018, the Town of Orono donated 112 acres.
The well-marked Caribou Bog Ski Trail, as well as snowshoe, biking, and hiking trails provide excellent public access to this area of diverse habitats and wildlife. The bird-watching is excellent, and you can see heron, osprey, geese, ducks, and woodcock. Wildlife we've seen includes moose, bear, deer, coyote, fishers, porcupines, otters and beavers.
To access: From I-95 North, take exit 191 and turn left onto Kelly Road. Turn right onto Stillwater Avenue. At the traffic circle, take the 3rd exit onto Forest Avenue. Drive approximately 1 mile and turn right onto Taylor Road (look for the Town of Orono wood chip pile and sign(s) that says Taylor Road, that is where you turn). Drive approximately 0.3 mile, and turn left at the split onto Putnam Road (landfill road). Park in the parking lot at left. See the kiosk at this site for more information.
MAPS
WINTER USE ETIQUETTE:
ATTENTION WALKERS/SNOWSHOERS
Once the snow flies, usually December, until the snow mostly goes, usually May, the wide trails on CBCA are ski trails. The trails are groomed for skiing by volunteers and it takes a tremendous amount of their personal time.
For the use and enjoyment of all, do not walk on designated ski trails. Snowshoeing is permitted along the edge of the ski trails during ski season. Please avoid "soft snow" when post holing causes an issue. If you are sinking in more than 2 inches on the groomed surface of a ski trail, regardless of whether you are snowshoeing, biking, or skiing, the trails are too soft and you should come back when the conditions are right. Snowshoers should use the narrower bicycle trails as much as possible. The bicycle trails are shown by the black dotted lines on the map.
THANK YOU for following these instructions so all may enjoy these trails.